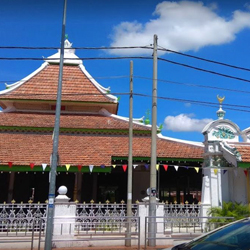 Masjid Tengkera
he actual mosque structure was constructed in 1728 entirely of wood purchased from Kalimantan, which was ruled by the Dutch East India Company. Since then, it has undergone several renovations and restorations. The mosque consists of components of the Javanese culture.
The Javanese design of the Mosque is a testimony to the presence of Islam in this region for more than 600 years. It features a triple pyramid roof and a square foundation and is one of the few mosques in the country with a pagoda instead of a minaret. The interior design is a fusion of Malay, Chinese and Indonesian elements, with intricate carvings and wooden doors, windows, ceilings, beams, pulpit and four grand pillars tiang agung.
Beside the mosque is the tomb of Sultan Hussain Shah, ruler of Johor and Singapore at the beginning of the 19th century, who was also responsible for handing Singapore over to Sir Stamford Raffles in 1819.