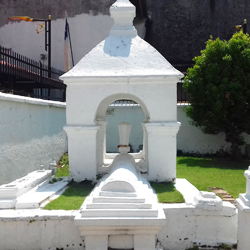 Hang Jebat Mausoleum
When Hang Tuah was sentenced to death, Hang Jebat became distraught and went uncontrolled in the palace. He threatened anyone who attempted to protect Sultan Mansor Shah, the one who ordered the killing. No one realised Tun Perak had actually hidden HangTuah.
The truth was finally revealed when the Sultan decided to forgive Hang Tuah. When Hang Tuah returned from the woods, he was given the task of killing Hang Jebat. He was appalled by the prospect of murdering his sworn brother. He did, however, tell him that he had no choice but to execute him because the Sultan had given him a direct command. The battle was believed to last three days until Hang Jebat was stabbed and died in the arms of his companion. The tomb itself is of Acehnese design and is of the type generally used to designate the burial locations of the time's senior ministers or Sultans, implying that Hang Jebat was a real person buried here. The age of the grave is unknown, however it predates the Portuguese takeover of 1512.
Location: Jalan Kampung Kuli, 75200 Melaka
Phone: +606- 2836 538