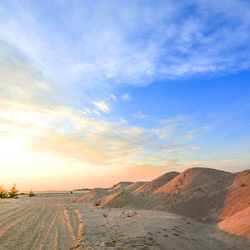 Klebang 'Sand Dunes'
A scenic sunset awaits you at the Kebang Sand Dunes. The coastal town along the Malacca Strait located within 15 minutes drive from Central Melaka. Expect breathtaking scenery, with amazing lighting during golden hour. We suggest you drive early from the Melaka city as walking to the Klebang Sand Dunes might take a while from your parking.
This spectacular location is a famous sightseeing attraction and ideal for taking pictures and all those trendy Instagram shots. Klebang was the "IT" place a couple of years due to these two things – food and sand dunes.
Location: Malacca